About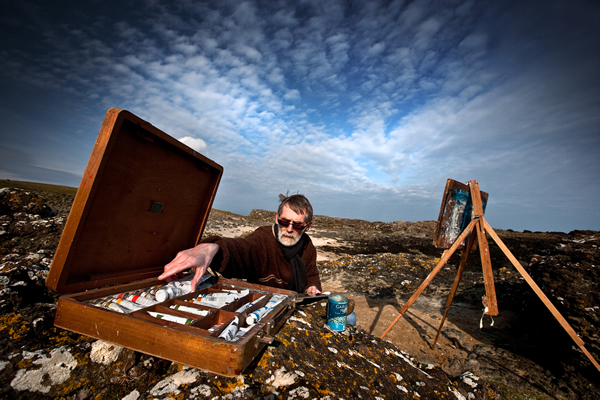 Irish artist Maurice Orr has always been drawing and painting. He had his work first exhibited in Belfast when he was only 15 years old. Born in England, Maurice now has his studio in Ballymoney, Northern Ireland. He studied at Belfast College of Art and Design in the early 70's before working as a graphic artist in the Northern Ireland Civil Service.
After taking early retirement, having had major surgery, he turned to oil painting as a hobby. In 2002 he won his first international residency and in 2003 he was awarded the prestigious Northern Ireland's Arts Council Banff Residency in Alberta, Canada.
In 2006, he was received a bursary award from the Arts and Disability Awards Ireland to attend a residency in 2007 at Hill End, Bathurst Regional Gallery Australia. During his visit to N.S.W. Maurice has also worked with the Barracks Artists in Thirroul, Australia.
Maurice cites Monet, Turner, Arthur Boyd and the Canadian artist Tom Thompsons use of light and its changing effect on nature as being a main influence in his style of painting.
He uses oils and a palette knife to create works that could be interpreted as bringing nature to life. He is a representational painter but with an abstract slant. His landscapes are less an attempt to faithfully reproduce a particular place than to convey an ambience or an emotion. His paintings, which convey an atmospheric quality, encourage the viewer to look and explore the spirit of the landscape.
In October 2009, he says he was blown away by Iceland, literally and artistically. From his studio base in Skagastrond, on the exposed northern tip of the country, he produced a collection of powerful, lightning-fast oil sketches of snow streaked mountains and peaty boglands akin to favourite home landscapes.
Maurice was awarded one of the first commissions for the London 2012 Cultural Olympiad, which contained the largest arts and disability programme ever to be delivered in the UK. The commission consisted of five large-scale sensory installation pieces entitled The Screaming Silence of the Wind, inspired by the dramatic scenery of his native Co Antrim. His Iceland experience gave him the idea for his London 2012 project, which combined tactile paint media with soft swathes of gorgeously dyed fish skins, which he came across on a visit to a factory specialising in the production of the high-quality fishleather.
In 2013 he travelled to Vancouver Island with the main aim of learning a new skill … monotype printing. He met with a number of renowned artists in this field. He worked in the studio Ground Zero Print in Victoria City and then moved on to Whitehorse and the studio of world renowned artist Joyce Majiski. On returning home, he has concentrated primarily on mono types and has been involved in an education programme with local schools.
His work is now in private and public collections around the world.